---
Wassertanzen
---
Developed in 1987 by the Swiss Arjana C. Brunschwiler and Peter Schröder, Wassertanzen is an independent discipline from watsu.
In 1993, the two pioneering activities of aquatic bodywork have been developed in Switzerland and United States of America.

Likewise as watsu, wassertanzen, is practiced in water at body temperature. It's a technique for skilled practitioners, familiar with watsu.

In wassertanzen, people are taken underwater, having a nose swimming clip on, and led into tridimensionality and in the absence of gravity.
This is a phase where operators are required to have intuition and a well developed sensibility for the receivers' breathing.
When in a WATA treatment, sequences done on the surface and underwater rhythmically follow one another listening to the receiver's needs.

Yoga teaches that, when in physical condition or relaxation, apnea soothes the end activity and allows for deep levels of meditation.
Since in wassertanzen, the whole body and face are constantly surrounded by the mildness of water, many people say they feel sensations of happiness and vibrating vitality.
At a physical level, the use of precise levers gives the operator the chance to loosen and mobilize the whole body's joints. In certain aspects, wassertanzen recalls the Japanese martial art of Aikido or classical dance movements. Sometimes it is similar to swimming, to the dolphins' plays or even to the silent fluctuation in the mother's womb.

Considering the diversity of all human beings, wassertanzen is perceived differently. Sensations vary from deep levels of relaxation to change of position in the space-time axis, regression to childhood, prenatal or birth experiences. Memories related to the past, things that hurt, may come up from the unconscious. Other times, the body may get free from old tensions thanks to spontaneous movements. Some people say they feel sensations of general integrity and unconditional love during and a lot of time after having received a WATA session.

From this point of view, wassertanzen is a kind of body therapy that should only be practiced by skilled and experienced operators in a safe environment, so as to respect the variety of feelings and sensation that may come to light.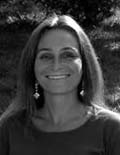 Arjana C. Brunschwiler (CH)
Director of the Aquatische Körperarbeit Schweiz
Educational trainings for Watsu and WATA at an international level.
Jahara specialist.
Motor activity and relaxation instructor (diploma danja, Zurich)
Body therapist (shiatsu, tantsu, massage, rebalancing certified in USA)
Specialization in energetic and healing activity (energy mastery school USA, tantra, reiki).
improvement in dance (classical, modern, oriental).
She's committed to Buddhism, meditation and yoga since a long time (she studied in India, Thailand and Switzerland).